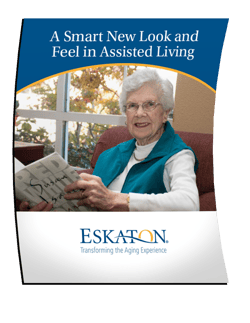 See the latest innovation that has assisted living apartments going "smart" in a way that provides better care and peace of mind for seniors and their families.
In this 6-page eBook, you'll discover:
• How smart sensors work in an assisted living community
• Where smart motion detectors go in the home and why
• How smart technology prevented a hospital visit
• Why Eskaton staff say they can't imagine life without them
"Technology is fundamentally changing the way we live … and active aging tech can dramatically improve our lives as we age."
- Gary Shapiro, Consumer Technology Association

Know the latest technology to expect in assisted living.
Get your free eBook today!