A List of Questions Not to Miss When Touring Independent Living Communities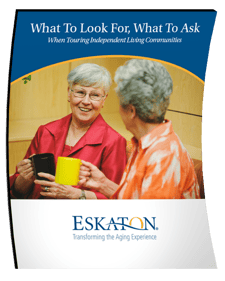 For baby boomers and seniors, there are more options than ever before when it comes to retirement living!
So how do you choose? What should you look for? What should you ask?
Take this list of questions, broken down by the following areas, on your tours to help guide you and narrow down your choices.
Homes
Grounds/Location
Services/Amenities
Social Life
Meals/Dining Options
The People
Contracts/Costs
Care Options
CCRC-specific
Whether you're touring today, tomorrow or in the near future, don't miss the questions you should be asking.
Download your free guide now!