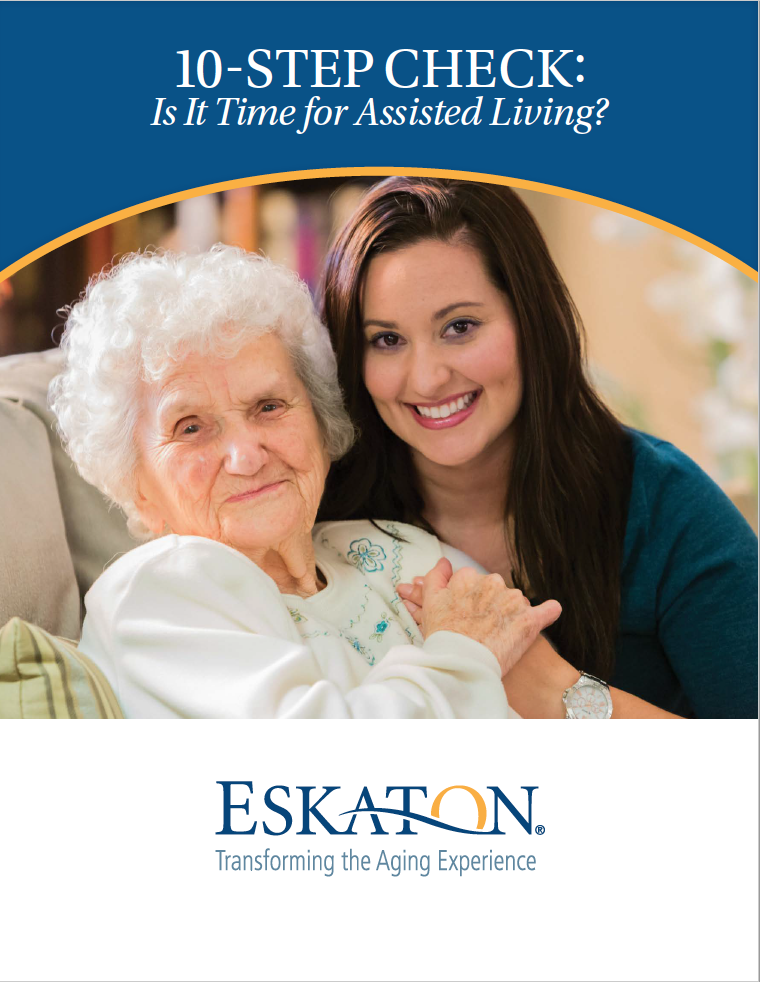 10-Step Check: Is it time for assisted living?
We have created this downloadable pdf document to give you some basic areas to get started. You can read the content here or get our document now. At Eskaton we want to make sure you have all of your questions answered before you make important decisions.
1 - The Big Picture
Certain situations make it more obvious that it's wise to start thinking about alternate living arrangements. Have you noticed:
Recent accidents or close calls?
A slow recovery or a chronic condition that's worsening?
Increasing difficulty managing the activities of daily living (bathing, dressing, grooming)?
Assisted Living Innovations
Eskaton Kids Connection receives state recognition from California Assisted Living Association. Students and older adults benefit from this intergenerational program at more than 23 locations around Northern California.
2 - Up Close
Give your loved one a big hug. Clues aren't always visible from a distance; especially when you don't see the person every day. Have you noticed:
Noticeable weight loss, gain or changes in appearance?
Increasing fraility?
Unusual body odor?
Some helpful information to read:
3 - Social
Social circles tend to shrink with age, which can have health and safety implications. Have you noticed:
Fewer active friendships?
Signs that your loved one has cut back on activities and interests?
Days spent without leaving the house?
Lack of any phone contact or visitors?
4 - Mail / Money
Mail can offer clues to mismanaging money, a common early warning sign of cognitive difficulty. Have you noticed:
Stacks of mail in various places?
Unopened personal mail or bills?
Thank-you messages from charities?
5 - Driving
Take a drive with your loved one behind the wheel, if he or she is still driving. Look for:
Nicks or dents on the car.
Whether the person promptly fastens his or her seatbelt.
Tension, preoccupation or being easily distracted.
Signs of dangerous driving.
6 - Kitchen
Go through the kitchen, from refrigerator to cupboards to oven. Look for:
Stale or expired foods, or multiples of the same item.
Broken appliances.
Signs of fire.
7 - Around The House
Browse around the living areas. Look for:
Lots of clutter.
Signs of an unclean house.
Bathroom grime and clutter.
8 - Pet Care and Plant Care
An ability to care of pets and plants goes along with self care. Have you noticed:
Plants that are dying, dead or just gone?
Animals that don't seem well tended?
9 - Home Maintenance
Walk around the exterior of the house. Yard maintenance - or lack of it - can yield clues. Have you noticed:
Signs of neglect?
Newspapers in the bushes?
Mail piled up in the mailbox?
10 - Caregiver Burnout
Some information is intangible - it has to do with feelings and emotional stress levels. Ask yourself:
How am I doing?
Am I experiencing difficulty sleeping and increasing irritability?
Am I experiencing diminished social engagements and loss of enjoyment in life?
Is my health failing?
Eskaton Senior Care
Founded in 1968, Eskaton is now the largest nonprofit community-based organization serving seniors in the Greater Sacramento area. Our dedicated team members provide services and support for nearly 15,000 individuals annually who live in our communities or participate in our comprehensive Home Support Services.
This is easily the best decision I've made in my life. Give these guys a try. You will not be disappointed.
Rick Crowbar